Mad Men: Season 4 Preview
The wait is almost over. Mad Men season 4 is just days away and I for one can't wait.
I am a huge, huge Mad Men fan and thought the final episode of Season 3 – with Don Draper and co starting up their own breakaway agency – was the best episode of the show to date. So saying my expectations are high for the coming season would be putting it mildly…
For me, at its best, Mad Men is the closest TV comes to pure theater. The writing, performances, direction can be so sharp – and so subtle – it's just a joy to watch.  Few shows on TV amaze you because they're so smart (The West Wing used to, Damages did and 24 often hit the mark – in a totally kinetic way). But Mad Men is smart all the way – and after a diet of junk TV that can be mighty refreshing.
So I'm certainly stoked for Season 4 – but you know me – this is Remote Patrolled. I always have an opinion and no show is perfect. So as we all eagerly await the continued adventures of Don, Roger, Pete and Betty, here's my 7 tips to keep Mad Men on top for the foreseeable future…
Here we go…
PICK UP THE PACE – complaining about the pacing of Mad Men is a little like saying Glenn Beck is an idiot or Jersey Shore is trashy – it's kind of key to the appeal of the show. I like that Mad Men is gently paced and doesn't hit you over the head with fast pacing, frantic cuts and drama, drama, drama… it's a refreshing change…
But… even I have to admit there are times when Mad Men could stand to be just a little less leisurely. Last season's Conrad Hilton storyline definitely outstayed its welcome and I'm getting a little tired of the endless Don Draper flashbacks, which often don't add a huge amount that we didn't already know. So please don't jettison what makes Mad Men so unique and different in the first place – but, you know, speed it up a bit!
WHO ARE THOSE GUYS AGAIN? – Okay we're three seasons into Mad Men and the show has given us some of the most defined and multi dimensional characters on TV – Don, Joan, Peggy, Pete and Sal for example. But 3 seasons in why is it that I still don't know the names of those 3 guys who used to work at Sterling Cooper? You know the ones – the bespectacled guy who heads up the TV department, the bearded guy who's a bit of a pretentious bore and the pretty blonde guy who got an article published in The Atlantic.
It's not that these guys are bad actors – and they've all had their moments over the years – but somehow all three have managed to blend into the woodwork for me. I don't know what makes these guys tick and they seem only to exist on the periphery of the show. I sense we're meant to know them better – but somehow it hasn't quite worked yet. So come on guys, please give these guys more to do. (For the record it's Harry, Paul and Ken. Admit it – did you know their names?)
MORE GIRL TIME PLEASE – For me one of the delicious ironies of Mad Men is that in a show titled after guys it's actually the girls who are the most intriguing characters in the series. I like Betty, the little girl lost with the appalling parenting skills and permanent streak of unhappiness – but it's Joan and Peggy I find most fascinating. Poor Joan, overlooked and underappreciated, who's been playing the sex kitten for years and can now feel her looks and authority fading away. Her 'dream' marriage is falling apart and her career prospects are limited – but as she gloriously revealed in the season 3 finale – Joan is an essential part of the business.
Then there's Peggy, the mousy secretary turned copywriter who's smarter and more ambitious than her male colleagues, yet is finding the 1960's advertising world a tough glass ceiling to crack. I love her scenes with Don and the way she's gradually testing the limits of her power.
And when the two girls are together – pure dynamite! So how about an all female episode of Mad Men this season, focusing on just the women characters for a change. It would break up the routine of the series and give these sometimes overlooked ladies a chance to really shine. I smell more Emmys…
SPRING SOME SURPRISES – What's the one moment everyone talks about in Season 3? Easy – the lawnmower scene (below)! Yep, Sterling Cooper's most insane and bloodiest moment caught us all by surprise by coming completely out of leftfield and wrecking Joan's leaving party. And yet somehow it was actually believable. We've all seen crazy things go down in our workplaces… just maybe not this mad!
And though I don't want Mad Men to go completely nuts on us I'd love to see more moments like these to keep us all on our toes – and the characters fresh. These guys work in advertising, it's the 60's, they live in New York – imagine the possibilities… so shake us up a bit…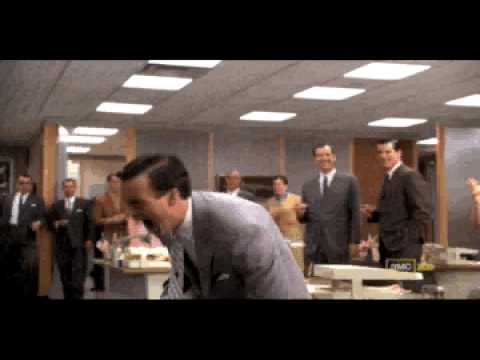 BRING BACK SAL – Last season we had to deal with Joan being out of the picture for a big chunk of the series (oh how we missed 'Red'). And then midway through the same season, closeted art director Sal found himself on the chopping block after turning down the advances of a predatory client.
Unfortunately it doesn't look like Sal will be back on Mad Men for the foreseeable future either – he's reportedly not returning for Season 4, and while my instinct is that Sal will turn up down the line, I fear it will just be for a guest appearance, rather than on a permanent basis.
Which is a real shame as Sal was a fascinating character – and honestly much more interesting to me than say Don himself, whose horndog antics and endless flashbacks are now starting to drag (as much as I love Jon Hamm). Just check out Sal's awkward moments with the object of his affection Ken (yep that pretty blonde dude!) for proof of how much juice is still left in the guy…  I'd love to know what happens next for Mad Men's most conflicted character… so how about it?
SHOW NOT TELL – Here's something that's always frustrated me a little about Mad Men – the quality of Don's work! We're constantly being told that Mr Draper is an advertising genius and one of the most sought after talents on Madison Avenue – and yet, I don't think I can remember a single memorable campaign or 'wow' moment in any of his work to date.  Sure it's the 60's and advertising is a different beast from today but shouldn't the work of Don and his team at least convince us that they're the best at what they do? What do you think? Is it just me or are these ad guys all talk and little action in the boardroom?
LAY OFF THE LOVING – And finally – is there any chance we could have a moratorium on Don Draper and his philandering ways? Sure Don's non-stop succession of women is key to the Mad Men brand and the core of his character – but after 3 seasons of non-stop conquests I'm feeling a little bit worn out by all the bed hopping, close calls and lying and cheating. I know – blasphemy!
The problem with a lot of Don's affairs is that they don't really go anywhere – whether it's his bohemian gal pal from Season 1, Jewish businesswoman Rachel Menken or Sally's schoolteacher Suzanne Farrell – the affairs just kind of happen, involve lots of talk and quiet moments and then sort of fizzle out. In contrast Don's relationship with Bobbie Barrett in Season 2, and his bust up with Bobbie's husband Jimmie was scandalous stuff and really kept viewers guessing. So if Don is going to go back to his bed hopping ways, post Betty, let's hope these are truly affairs to remember…
So that's my take – but what do you think? What would you change about Mad Men – if anything? And how stoked are you for Season 4? You know the drill… get those comments rolling…
about 7 years ago - 3 comments
Summer is almost over so it's time to put away those BBQ sets and beach towels for another year. But before we settle down for the Fall TV Season – here's 15 Lessons We Learned From Summer 2010…
Networks Execs take note!
1) Scripted Network Dramas Are Dead: Witness NBC's Persons Unknown (aka Persons Unwatched), ABC's Happy Town and the Sunday night snoozers The Gates and Scoundrels. All four struggled to attract more than 3 million viewers a week and barely made it through their runs. And the only real scripted 'hit' of the summer, ABC's Rookie Blue, was a middling 5 million rated cop show.
2) …But Scripted Cable Shows Are Hot: Where to begin – Rizzoli and Isles, Covert Affairs, The Closer, Haven, Melissa and Joey, Hot In Cleveland… this summer audiences switched over to cable big time, a cultural shift that will only continue in years to come… fact is viewers are loyal to shows NOT networks. If you want an audience now you have to work for it!
3) Weight Loss Shows Are On The Way Out: The Biggest Loser is still a hefty hit but too many copycat formats failed this summer… Dance Your Ass Off was down year to year, Vh1's Money Hungry was an outright bomb (see Lesson No 10) and even Losing It With Jillian underperformed. Meanwhile Huge did big business for ABC Family and Drop Dead Diva remains strong for Lifetime. Has the weight acceptance tide turned?