Glee: 8 Characters In Urgent Need Of A Rewrite
 We're into the second half of Glee's second season and Fox's high school musical is still riding high in the ratings – and the music charts. But with competition on the way -NBC's Smash from the producers of Hairspray and ABC's Grace, set in the world of professional dance – can Glee stay on top?
By now you all know my feelings on Glee – a mixture of fan love and frustration that a show with so much potential can be so erratic. One week Glee is superb, the next it's a disaster. Consistency is definitely not the series' strong suit – and the show's characters are all over the place.
So with these thoughts in mind I thought I'd take a look at the Glee cast – and the 8 characters most in need of a rewrite – fast! Here we go…
SUE SYLVESTER: I love Sue – and of course the actress behind her, Jane Lynch – and think she provides a wonderfully acerbic edge to Glee that's often necessary amidst all the life lesson preachiness and perky pop numbers. But even a villain has to make sense and far too often Sue has strayed into pure cartoonishness. There was the appalling Christmas episode which featured a green faced Sylvester pretending to be the Grinch, not to mention the totally ridiculous 'wedding' episode where Sue decided to 'marry' herself. Sue's schemes and motivations need to be more grounded in reality if they're to make sense. A little goes a long, long way (and enough with the Will hair gags too!)
RACHEL BERRY: We get it, Rachel's a budding diva who needs to be center stage at all times and is fiercely ambitious. I like this aspect of Berry's character and the storylines that often ensue. But for much of this season Rachel has been saddled with dull romantic plots playing off her relationship with Finn, a character in search of a personality. Personally I don't give a damn about this hook-up, especially as a character like Rachel would undoubtedly dump her high school boyfriends the moment she made it to Hollywood. In the meantime we're stuck with a tedious storyline that's totally pointless as the rules changes week by week – one day they're together, the next they're not… which also brings out the neediest aspects of Berry's character. Young love has never been so dull. Let's have more standout diva moments like Rachel belting out Don't Rain On My Parade and I Dreamed A Dream – and less ABC Family plots…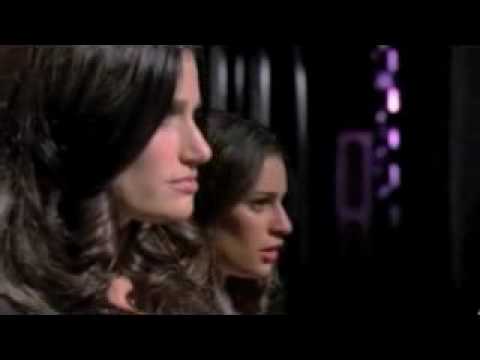 SAM EVANS: Actually forget Rachel and Finn – this is the dullest relationship on Glee – Sam and Quinn, what a yawner! Sam has a good body and okay looks (those lips are distracting) but sadly, the personality of a toadstool. Ever since his arrival at McKinley High, Sam has been given little to do but make up the numbers for group songs and hook up with once-pregnant-now-redeemed Quinn (who's also lost her mojo– see below) If Sam's not careful a season three Matt Rutherford style transfer may be on the horizon… so please give Sam some kind of personality going forward – anything!
NOAH PUCKERMAN: Speaking of Glee hunks… how about Noah Puckerman, arguably the hottest male cast member (on the girl's side I'd opt for spicy Santana). By rights Noah should be getting the kind of glowing press attention that newcomer Darren Criss / Blaine is receiving – but he's not (which likely explains why actor Mark Salling's album died a death last Fall).
I think it's because Puckerman is just not interesting enough. He's bad-boy-lite, an annoying bully rather than an actual threat, and with nothing much to back up his antics. There's little pain or pathos in Puck's actions and without any real substance or backstory he's just kind of dull. Plus as I've said before, Glee has a real problem writing its male cast members – Puck, Sam, Finn, Mike – they're all pretty much interchangeable and could each say each other's lines. Being hot just isn't enough to keep a character interesting…
BRITTANY PIERCE: Overall I love Brittany – a great addition to the show and a frequent source of snappy one-liners. But a little Brittany goes a long way and when the writers tried to make the character the central focus of an episode the result were the two worst episodes EVER (The aforementioned Christmas special and the dreadful Britney Spears tribute)
There's a fine line between likeably dim and the awful R word – and in Glee's Xmas show Brittany's character crossed that line with her belief that Santa Claus actually existed. Plus her romance with Artie is more odd than interesting. And finally, what's the point of the show's writers giving Brittany so many killer one-liners if actress Heather Morris swallows the words in her mumbled delivery. The lines aren't funny if we can't hear them!
KURT HUMMEL: Oh you knew I was going to go there! Look, I totally get that Kurt is an important role model for gay teens and he's undoubtedly grown on me in recent weeks – but I'm still not totally on board the Hummel express. The fact is I find actor Chris Colfer more likable in interviews than as his character who's still sullen, selfish and snappy. Transferring to the Dalton Academy and lusting after heartthrob Blaine has been a good move but I'd love to see more Kurt storylines that don't constantly revolve around his sexuality and victim status (and I'm a gay guy – I dread to think how bored the straight audience must be by the character).
EMMA PILLSBURY HOWELL: Honestly I'm not really sure how much can be done with Emma's character but all I know is that pretty much every time Emma appears on screen she sucks the life out of the show. I don't really care about her relationship with Will (it's like a double dose of blandness) and I certainly don't care about her recent shotgun wedding to dentist Carl. Emma needs to lighten up and have more fun – her best moments to date have been where the character has got into the spirit of the show – singing Touch A Touch A Touch A Touch Me in the show's terrific Rocky Horror episode or joining the Glee club for Sectionals. Let's have more please… and much less of the now annoying OCD kookiness…
QUINN FABRAY: And finally, ever since Quinn popped out that baby in the show's season 1 finale, Fabray has been a character in search of a story line. At the start of season 2 there was some mild rivalry with Santana – an interesting plot that should have been developed further. But then Quinn met Sam and blonde met bland. On the plus side the show's producers clearly recognize how dull the couple has become and we've been promised some spikier scenes in future weeks. But Quinn needs a bigger arc than just mere romantic entanglements. What's her relationship like now with her conservative family, how far will she go to be top dog in the Cheerios (I loved when she blackmailed Sue) and what happened to her intriguing friendship with Mercedes…?
So those are my thoughts for now – but of course there's many more characters I could have tackled – Will, Mike, Mercedes to name a few… maybe I'll put together an update later in the season.
In the meantime, start weighing in with your thoughts. Do you agree with my comments? Which characters do you like and loathe? And who should face a transfer at the end of the season… start commenting everyone…
about 7 years ago - No comments
You know him best as whiny, wheelchair bound Artie Abrams on Glee (probably my least favorite character on the Fox show)
But you may or may not know that actor Kevin McHale had a whole OTHER musical career before his Glee days.
Kevin used to be part of a boyband called NLT (which stands for Not Like Them) a fairly unsuccessful outfit that also featured the Perez Hilton protege Travis Garland.
NLT released four singles in total and they pretty much all bombed. But the videos still live on online and show a whole other side of McHale that's pretty much never seen on the Fox high school musical…
Personally I can kind of see why the songs never took off – they're totally forgettable and generic – and the first video is a pure N*Sync rip off. But what do you think? Bland boy band pop – or do you see something special?
Start weighing in all you Gleeks…!