Cool Clip: The Glee Cast Take on David Bowie's Fashion

Obviously Glee is not overexposed in the least at the moment… and the show's cast clearly need all the publicity they can get!
So it's not surprising to see the Glee kids have been named as the official spokespeople for Anna Wintour's Fashion's Night Out – an annual event that encourages people to shop with celebrities, drink and party.
And in true Glee fashion they've even gone and shot a video for the event – taking on David Bowie's Fashion – with Lea Michele on lead vocals (of course)
Rachel, Blaine and Mike get most of the screen time, Quinn sports a new shorter cut and for some reason Sam is tagging along for the ride, even though he's no longer part of the show and probably persona non grata with Ryan Murphy! And where the heck are Mercedes and Santana???
It's all for a good cause and should be commended – but if you were the Glee PR team, wouldn't you want the cast doing a bit less press at the moment?
Just a thought…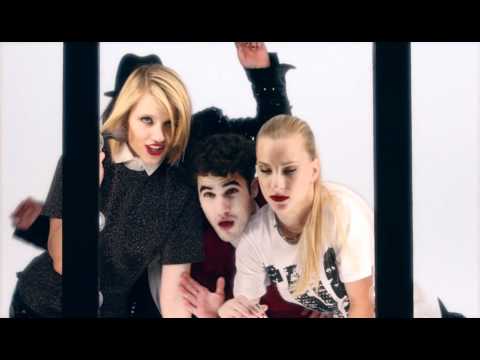 No comments yet.
No trackbacks yet.
about 6 years ago - No comments
You know him best as whiny, wheelchair bound Artie Abrams on Glee (probably my least favorite character on the Fox show)
But you may or may not know that actor Kevin McHale had a whole OTHER musical career before his Glee days.
Kevin used to be part of a boyband called NLT (which stands for Not Like Them) a fairly unsuccessful outfit that also featured the Perez Hilton protege Travis Garland.
NLT released four singles in total and they pretty much all bombed. But the videos still live on online and show a whole other side of McHale that's pretty much never seen on the Fox high school musical…
Personally I can kind of see why the songs never took off – they're totally forgettable and generic – and the first video is a pure N*Sync rip off. But what do you think? Bland boy band pop – or do you see something special?
Start weighing in all you Gleeks…!